For further information contact:
Lily Duarte, Marketing Coordinator 
310.323.9924 | [email protected]
Los Angeles-area, CA, June 13, 2017 — At last week's 2017 SEAOSC Excellence in Structural Engineering Awards dinner, Structural Focus received an Award of Excellence in the Seismic Retrofit – Small Project category for the renovation of KTLA Channel 5. To house KTLA Channel 5, Sunset Bronson Studios – Stage 6 went through a major upgrade designed by Bastien and Associates and Structural Focus. The 75-year-old building presented unique challenges for the design team.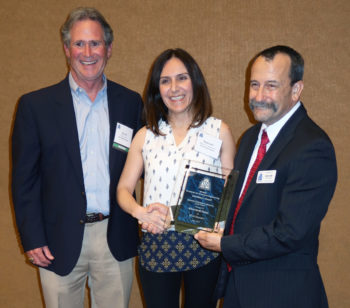 "We are very pleased to win this Excellence Award from SEAOSC," expressed Structural Focus President David Cocke, SE. "This project required real "out of the box" thinking to provide a structural scheme that met the studio's performance requirements and was cost effective. Project Engineer Melineh Zomorrodian, SE, did an amazing job conceptualizing and completing this scheme. The client was impressed with our solution and is very happy with the final product."
The biggest project challenge was the construction of two new "box-in-box" live broadcast studios within the existing building. The team developed complex yet efficient and innovative solutions to minimize demolition of the floor and avoid extensive foundation excavations during the construction of the new studios. In order to limit the impact on the existing structure and to lower the construction cost, the Structural Focus team designed "upside-down suspended shear walls." The studios were designed and constructed using cold-formed steel ceiling and shear wall framing, supported by steel beams and columns. The wall framing was vertically supported from the ceiling's new structural steel beams using continuous light gage steel saddle track to avoid adding gravity loads on the existing raised floor framing. This creative design allowed for the construction of the box-in-box studios without impacting the building's floor. The renovation of Stage 6 does not only provide a high-performance state-of-the-art facility for KTLA Channel 5 but it extended the life of the historic studio.
For further information read Creativity in Structural Engineering: Designing "Suspended" Shear Walls.