For further information contact:
Lily Duarte, Marketing Coordinator
310.323.9924 | [email protected]
Los Angeles-area, CA, December 29, 2016 — The Southern California Development Forum awarded The Masonic Temple a Design Award in the Adaptive Re-Use | Renovation | Historic Preservation category. The annual Southern California Development Forum Design Awards recognize the contributions and commitment to the business environment and the communities of Southern California. The design awards celebrate built and un-built projects that demonstrate innovation and commitment from both: owners and design teams.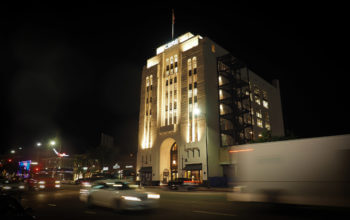 The Masonic Temple in Glendale, California, once stood as the tallest building on Brand Boulevard and has housed six different Masonic organizations since its opening in 1929. The building is listed in the Glendale Register of Historic Resources. It consists of four double-height  stories, each with a partial mezzanine, and a full basement. The building's structure consists of a full structural steel frame encased in concrete.
Caruso Affiliated partnered with the tenant, CBRE Group Inc.; architect, Gensler; contractor, W.E. O'Neil; and structural engineer, Structural Focus, to successfully transform the historic building into a state-of-the-art creative office space within the parameters of a significant landmark building. The renovation of The Masonic Temple was completed in December 2015.
STRUCTURE Magazine's March issue featured an insightful article by Structural Focus Project Engineer, Brendan Ramos, S.E. and President David Cocke, S.E., F.SEI, F.ASCE. The Modern Temple: Making a Historic Monument Shine explains the transformation of the ‪historic‬ Masonic Temple in ‪Glendale‬ into a state-of-the-art office building.
For more information about the awards and for a complete list of the winners, visit SCDF's website.