For further information contact:
Lily Duarte, Marketing Coordinator
310.323.9924 | [email protected]
Los Angeles-area, CA, July 7, 2016 — The Los Angeles Business Council (LABC) recently recognized two Structural Focus projects as part of its annual Architectural Awards. The Red Bull Headquarters in Santa Monica received the 2016 Architectural Award – Interiors category. Glendale's Masonic Temple received the 2016 Architectural Award – Renovated Buildings category.
Red Bull's project consisted of the tenant improvement of an existing 68,400 square foot two-story warehouse facility. The facility features an employee café, conference rooms, informal meeting space, gallery and interior gardens. Wolcott Architecture|Interiors led the team comprised of Howard Building Corporation and Structural Focus representing the owner Transwestern. Structural Focus' long collaboration with Red Bull has culminated in past awards such as the 2010 Commercial Adaptive Reuse Award from the Santa Monica Conservancy.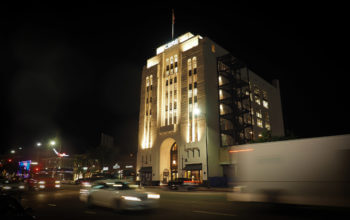 The Masonic Temple previously won the 2016 Excellence in Structural Engineering Award from the Structural Engineers Association of Southern California. The 16 million dollar renovation was completed in December 2015. Caruso Affiliated partnered with the tenant, CBRE Group Inc.; architect, Gensler; contractor, W.E. O'Neil; and structural engineer, Structural Focus, to successfully transform the historic building into a state-of-the-art creative office space within the parameters of a significant landmark building.
STRUCTURE Magazine's March issue featured an insightful article by Structural Focus Project Engineer, Brendan Ramos, S.E. and President David Cocke, S.E., F.SEI, F.ASCE. The Modern Temple: Making a Historic Monument Shine explains the transformation of the ‪historic‬ Masonic Temple in ‪Glendale‬ into a state-of-the-art office building.
http://www.labusinesscouncil.org/2016-LA-Architectural-Awards-Winners