Evelyn graduated with a B.S. in Civil and Environmental Engineering from UCLA and an M.S. in Civil Engineering with an emphasis on Structural Engineering, Mechanics and Materials from UC Berkeley. Evelyn joined Structural Focus in 2014 as an intern and returned to the firm in 2015 after completing her graduate studies. A newly licensed California Professional Engineer, she has worked on various projects including, the new Masonic Temple Retail complex, Washington Iron Works new office building, and the tenant improvements for KTLA Channel 5 at Sunset Bronson Studios.
What does Structural Design mean to you?
Structural design is the bridge between art and science. It is the tool that allows engineers to bring the architect's vision to life while expressing their own creativity through innovative and economical design.
Favorite Project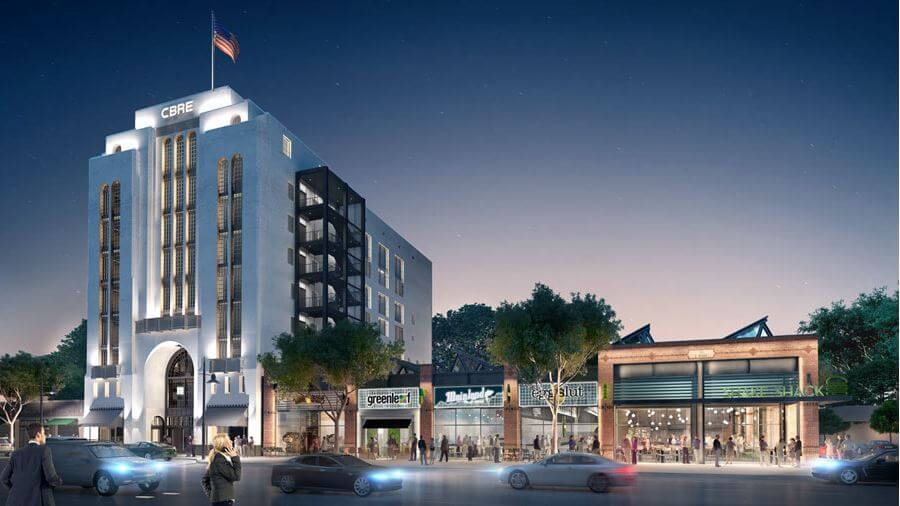 My favorite project thus far is the Masonic Temple Retail building. The five-unit complex is located in Glendale, CA, which is close to where I grew up. The lot where the building now stands was vacant for many years, it was used to sell seasonal items. I remember going there to pick out a Christmas tree during the holidays and a pumpkin during Halloween. It is a very rewarding feeling to drive by and see the new building that I helped design on that same lot. Structurally, the project was very challenging. The building is made up of a wide range of materials — steel moment frames, a masonry shear wall, built-up wood trusses, and cold-formed steel partition walls. It was rewarding to see our design with all these different materials come together during construction. I was very excited when I found out the building was going to house Glendale's New Block of Bites, including Shake Shack's second location in California!
Biggest Challenge
The new office building for Washington Iron Works has been one of the biggest challenges I've faced. I was responsible for the complete analysis and design of the building. Once the project went into construction, I also took care of responding to all RFIs and submittals. This was the first project where I was involved in every phase, from preliminary coordination with the architect to the structural design and assisting the contractor with issues out in the field. While the fast-paced nature of the project brought about many challenges, it was a great learning experience.
Dream Project
My dream project would be to work on a ground-up design for a media/tech company. We are involved with a lot of projects for media clients and the designs are always interesting and fun. The client typically has a unique vision for the space which results in the need for innovative structural engineering solutions. Designing a building with similar constraints would be a challenging and rewarding experience.
What's your favorite part about working at Structural Focus?
I love the work environment. We are more than just members of the same team — we are a work-family. It is pretty unlikely to walk through the office and not see two people interacting, laughing over a joke and consulting on a project. These close office relationships reflect one of the firm's main goals —  to build lasting client relationships. From the very first day on the job, you are encouraged to interact with clients, to pick up the phone instead of sending an email, to have the client's' best interest at heart.
The Future of Structural Engineering
Structural engineering is definitely changing as technology advances. Computer programs are being relied upon more and more for analysis and design. This has its pros and cons. More advanced software will allow us to go beyond the prescriptive building code design methods and move towards performance-based design and nonlinear analyses. An engineer will be able to better predict how the building will behave during an earthquake rather than using more conservative assumptions, this will result in more economical design solutions. However, the more intricate our analysis tools become, it is likely they will turn into "black boxes". Engineers should confirm results based on engineering judgment, rather than just plugging numbers into the machine and blindly relying on the output. It is very important for us to understand the fundamentals behind the software we are using.
What advice would you give young structural engineers?
Never give up! Transitioning from academia to the working world can be challenging. It is very important to ask lots of questions and understand that every day is a learning experience. I would encourage young engineers to pay attention every day and attend as many seminars/webinars as they can. These give you the opportunity to learn first-hand from some of the greatest minds in our industry.
What would we be surprised to learn about you?
I love a good thrill! I went skydiving in Santa Barbara last summer and jumped from an elevation of 18,000 ft. — the highest tandem jump in the U.S. The jump elevation is so high that supplemental oxygen is provided on the ride up. It was the most thrilling experience I've ever had.