The Scripps College campus is listed on the U.S. National Park Service's National Register of Historic Places. The original campus, which dates to the 1920s and 30s, is designed in the Mediterranean style that was popular in Southern California during that time. It is not surprising that The Princeton Review listed Scripps in the top 20 colleges for Best Quality of Life, Most Beautiful Campus, and Best College Dorms.
In 2013, campus leaders identified a new residence hall as the most critical building priority in order to reduce crowding in existing residence halls and accommodate students housed in off-campus facilities. As the design for the proposed hall began, the college's commitment to mirroring their existing historic halls not only in architectural style and character but also their longevity was a high priority. NEW Hall also embraced sustainability practices by adhering to LEED Gold Standards.
Drisko Studio Architects lead the design team for this $25 million dollar project. SJ Amoroso Construction was the contractor, and Structural Focus provided full structural engineering services. The limited site area required careful consideration of the setting and scale of the infill. The architect's approach to the project: "In feasibility studies for new dormitory building structures within their historic campus, Drisko Studio explored options for repeating the design elements characteristic of the Spanish Colonial Mediterranean style in infill buildings nestled in the spaces between existing historic dormitories." Scripps' NEW Hall, their 10th residence hall on campus, consists of three Mediterranean-style buildings, two and three stories, with a floor area of 38,700 square feet and a capacity for 110 beds. The design also included a new mechanical enclosure in the existing mechanical yards.
Concrete and steel masonry construction was chosen due to its longevity. The design also incorporated the principles necessary to achieve a higher seismic performance objective as requested by the university. Some of the advantages of the masonry construction method include:
The use of material such as bricks and stones can increase the thermal mass of a building and can protect the building from fire.

Masonry is a non-combustible product.

Masonry walls are more resistant to projectiles, such as debris from hurricanes or tornadoes.

Masonry walls are more resistant to wear and tear.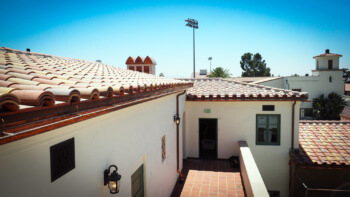 NEW Hall features a series of courtyards and arched colonnades; architectural finishes include a clay tile roof, wood windows, copper gutters, and Mediterranean details similar to the original Gordon Kaufmann designed campus buildings. Clear spans provided by cold formed trusses allowed for fewer interior walls and open spaces eliciting a sense of community among the hall' residents, a priority for Scripps College. Designed to LEED Gold Standards, the new buildings feature low-flow water fixtures, high-efficiency lighting, and drip irrigation.
Completed in time for the Fall 2016 semester, the new residence hall blends seamlessly into the historic Scripps campus. Scripps announced, "Perhaps the most important element of sustainable construction at Scripps is buildings that are designed to withstand the tests of time. While other colleges tear down residence halls built in the 1970s and earlier to replace them with newer designs, Scripps builds its halls to last."